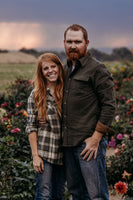 Hi, I'm Mallory! Welcome to our corner of the internet!
I'm a boy mom in Idaho that loves all things DIY and outdoors!
I hope you find something here today that inspires you! Maybe a recipe, a printable freebie, or something handmade to make your home cozy!
Shop our Etsy store to find the perfect piece for you or a loved one!
If you are looking for something laser engraved please send us a message on Etsy or an email at lindermanlane@gmail.com and we can set up a custom listing for you!
New in the shop!
We have been busy updating listings to provide you the most personalized items!
You can now choose from over 13 colors as your background board color! Personalize signs with your name or business!
Shop Here!